Comics News: THE DREAMER Returns This March From IDW
|
The Dreamer Volume 3 coming March 2014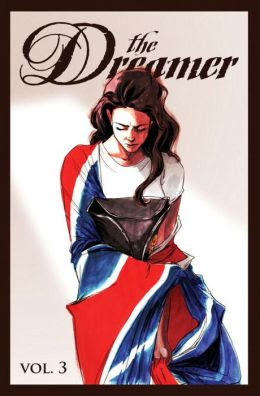 IDW announced that the next release in the graphic novel series "The Dreamer" will hit stores in March 2014.
The Dreamer Volume 3: The Battle of Harlem Heights
(ISBN
9781613778869) is
the third and final book in the story arc The Consequence of Nathan Hale and will be available in comic book stores as well as book trade venues. The Dreamer has been nominated for numerous Harvey Awards and is a fan favorite among comic book and mainstream readers alike. Print versions of books 1 and 2 are still available in both print and digital formats.
Innes explains "You don't need to be a history buff or comic book fan to love my book,
The Dreamer.
The reason the book resonates with readers is it's filled with romance, action and adventure that anyone can relate to. The fact that much of this actually happened is only backdrop to the story, but it makes it much richer."
What others have said about The Dreamer:
"
There is not a single misstep in the entire book. To say I'm hooked is a huge understatement. I'm buying this volume, the previous volume and will preorder the next volume." —
FirstComicNews.com
"That this beautiful work is paired to a pitch-perfect story at once epic and intimate, both serious and playful, that straddles a teenage present and our nation's most dramatic past is a testament to a creativity that knows no bounds." —Michael Frost Beckner, producer of Spy Games
"
The best books in life are the one you're surprised by — the ones where you see the cover and think, "Huh. This looks cool."…and then you don't come up for air until you've read all the way through to the end. That's what happened with Lora Innes's The Dreamer." —Fantasy Magazine
Book 4 in the series is planned for 2016.
About The Dreamer Volume 3:
Bea Whaley's vivid dreams about the American Revolution continue in this all-new graphic novel! In the 21st Century Bea's friends and family begin to suspect that something is wrong, but Bea knows she cannot tell them about her dreams. As tensions rise, she struggles to return to the 18th century, where her friends' lives are threatened by the ever growing war – and this time, she just might be too late to save them.