Action Lab: Danger Zone in stores on 9/27/2017
|
ACTION LAB ENTERTAINMENT COMICS IN STORES THIS WEEK
New Releases for the week of

September 27th, 2017

DOLLFACE #9
Writer(s): Dan Mendoza & Bryan Seaton
Artist Name(s): Zoe Stanley
Cover Artist(s): Dan Mendoza, Colette Turner, Celor
Cover A – Dan Mendoza (unlimited)
Cover B – Tattered & Torn variant cover (limited to 2000): Dan Mendoza
Cover C – Colette Turner Pin-up variant cover (limited to 1500)
Cover D – Colette Turner Pin-up Tattered & Torn variant cover (limited to 2000)
Cover E – Celor Pin-up variant cover  (limited to 1500)
Cover F – Celor Pin-up Tattered & Torn variant cover (limited to 2000)Still feeling responsible for the death of Emily's girlfriend, Lila goes off on her own to reflect on who she was and what she has become.

32 pgs./ M / FC                   $4.99
What people are saying about DollFace:
"Things are really starting to get good, more so than it already has been, so don't let this pass you by." (Geek-o-Rama)
"If you want action, playfulness, sexiness and something dangerous on top of that, you can't do worse than Dollface. Even when things seem at their most calm, this series can still shock you and ramp up the stakes." (The Broken Infinite)
"DollFace #6 is an issue that screams fun but finds a way to bring about a serious cliffhanger. If you've never read this title before now, here's a good opportunity to catch up with this ball-jointed witch hunter." (SnapPow.com)

MEDISIN #4
Writer(s): Jeff Dyer and Mark McKeon
Artist Name(s): David Brame (Pencils), Joaquin Pereyra (Colors)
Cover Artist(s): David Brame
First Do No Harm Chapter 4
Ethan Sharp has the ability of fast thinking, but even his powerful mind is struggling to understand the shocking revelation from last issue. And with truth comes consequences as a MEDIC pays the ultimate price for this disclosure. Meanwhile, the MEDICs brace for war as the Lords of Discord begin their assault on Mitokas, headquarters for the Exemplars. Also, Sage's past finally catches up to him. The final act of our opening story arc begins here!
32 pgs./ T+ / FC                   $3.99
What people are saying about MediSin:
"The story is original, the characters are complex, and the art is gorgeous!"
(Rogues Portal)
"…MediSIN's mix of human drama and unapologetically realistic superhero combat makes for a thoroughly enjoyable read." (Big Comic Page)
"…for those who love dark, gritty, violent deconstructionist superhero stories this might be your new favorite comic." (Outright Geekery)

VAMPBLADE SEASON TWO #7
Writer(s): Jason Martin
Artist Name(s): Marco Maccagni
Cover Artist(s): Winston Young (Covers A-B), Magenta King (Covers C-D), Arturo Louga (Covers E-F)
Cover A – Winston Young Main Cover (unlimited)
Cover B – Winston Young Risqué variant (limited to 2000)
Cover C – Magenta King Artist variant (limited to 1500)
Cover D – Magenta King Artist risqué (limited to 2000)
Cover E – Arturo Louga 90s variant (limited to 1500)
Cover F – Arturo 90s risqué (limited to 2000)
The Danger Doll Squad hijinks continue as Katie, Janey, and Lila carry on with their adventure leading up to next month's Danger Doll Squad mini-series debut!!
This Danger Doll Squad tie-in features 3 covers (regular, artist, and 90s style), each with a risqué variant as well!
32 pgs./ M / FC                   $4.99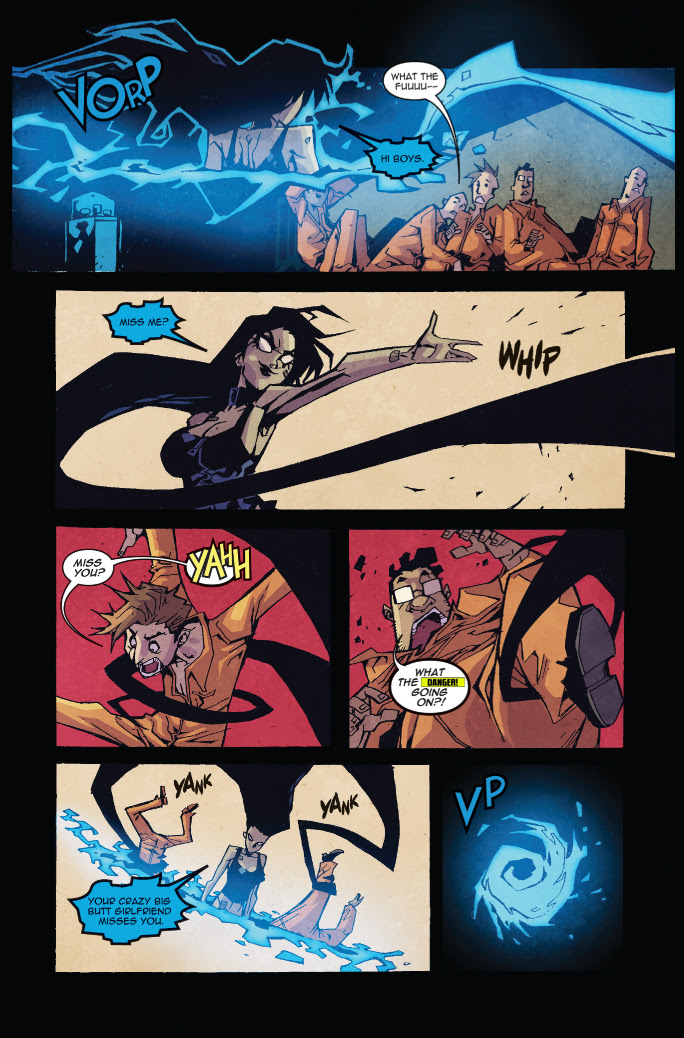 What people are saying about Vampblade:
"…providing a supernatural cat fight for the ages." (Horror Talk)
"This book is a very fun read, and the last part of it definitely makes sure this book earns it's mature rating." (The Broken Infinite)
"Vampblade season 2 has continued to deliver our favorite f-bomb dropping fem fetale Katie (aka Vampblade) with her space vamp slaying shenanigans."
(Tech Media Stash)