Action Lab: Danger Zone in stores on 8/2/2017
|
ACTION LAB ENTERTAINMENT COMICS IN STORES THIS WEEK
New Releases for the week of

August 2nd, 2017
INFINITE SEVEN #5
Writer(s): Dave Dwonch
Artist Name(s): Arturo Mesa (Pencils), Geraldo Filho (Colors)
Cover Artist(s): Arturo Mesa (Covers A-B), Dave Dwonch (Cover C)
After the tragic events of last issue, Anthony "Smash Brannagan" Zane lies in a coma at the edge of death, while a friend from his past threatens to expose the Shadow Cabinet to the world, putting her in the crosshairs of the Infinite Seven! The status quo has changed, making this the PERFECT jump on point for new readers!
                                                                                          
Featuring an artist variant cover by series creator, Dave Dwonch!
32 pgs./ T+ / FC                   $3.99 
What people are saying about Infinite Seven:
"It's nothing short of heart racing. The wonderful stylized action adds a whole lot of flavor as well." (The Broken Infinite)
"If you want an issue packed to the brim full of all kinds of action based artwork, this is it. The intense closer to the launch arc goes out with bang after bang, loading the pages with awesome visuals." (Geek-O-Rama)
"…it's a fun and fast-paced comic, and it promises an out-of-the-ordinary adventure." (Chuck's Comic of the Day)
SPENCER & LOCKE TPB
Writer(s): David Pepose
Artist Name(s): Jorge Santiago, Jr. (Pencils), Jasen Smith (Colors)
Cover Artist(s): Jorge Santiago, Jr.
Collecting the hit mini-series, Spencer & Locke follows hard-boiled Detective Locke as he investigates a brutal murder with the strangest of partners — his childhood imaginary panther, Spencer. But when they face brutal gunfights, deadly car chases and memories of Locke's traumatic upbringing, can this unlikely pair survive long enough to find the truth? Collects Spencer & Locke #1-4.
128 pgs./ T+ / FC                   $14.99

TOMBOY VOL. 3
Writer(s): M. Goodwin
Artist Name(s): Michelle Wong
Cover Artist(s): M.Goodwin
Addison's hunt leads her ever closer to a confrontation with the notorious Irene Trent, and the truth behind her mysterious powers.  Fate finally pulls the Brody family back together, but the curse of their bloodline guarantees there are no happily ever afters for monsters. The exciting and epic conclusion to the twelve issue series!
Collects issues #9-12 of the hit series.
128 pgs./ T+ / FC                   $14.99
What people are saying about Tomboy:
" 'Tomboy' is a winner. Pick it up, tell a friend, talk about it, share it, let people know just how awesome this book is." (Spartantown)
"Make sure you're caught up for the last one as it's bound to be as great as the rest." (Geek-O-Rama)
"Tomboy is a series that demands to be read!" (GAMbIT Magazine)

ZOMBIE TRAMP: ORIGINS #2 (VOLUME 1 COLLECTOR EDITION)
Writer(s): Dan Mendoza
Artist Name(s): Dan Mendoza
Cover Artist(s): Dan Mendoza (Covers A-B), Celor (Covers C-D), Bill McKay (Covers E-F), Dan Mendoza (Cover G)
Cover A – Dan Mendoza Main cover (unlimited)
Cover B – Dan Mendoza Risqué variant (limited to 2500)
Cover C – Celor SEXY variant (limited to 2000)
Cover D – Celor Risqué SEXY variant (limited to 2500)
Cover E – Bill McKay GORY variant (limited to 2000)
Cover F – Bill McKay risqué GORY variant (limited to 2500)
Cover G – Dan Mendoza Replica variant (limited to 2500)

The second issue in the remastered reprinting of the highly collectible original mini-series, that was never before released in single issues to the direct market.

Features a new cover by series creator Dan Mendoza, plus new SEXY and GORY variants (all with risqué variants), plus a "replica" variant (recreating the rare original issue cover)!

32 pgs./ M / FC                   $4.99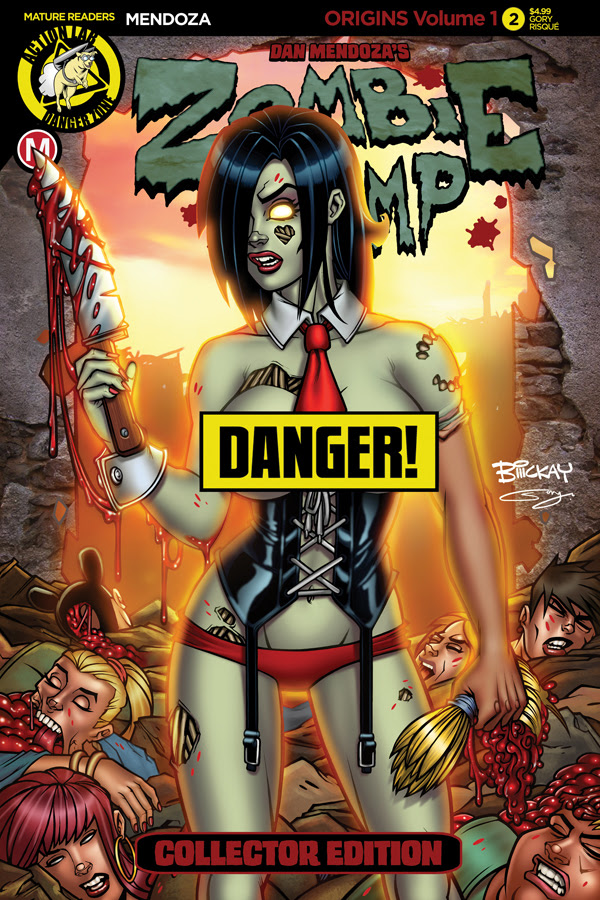 What people are saying about Zombie Tramp: Origins:
"I couldn't be happier that we're getting a chance to read the story for these highly coveted books virtually nobody has seen. Everyone loves getting the origin story of their favorite characters and Zombie Tramp is high on that list. You'll probably never get your hands on the originals, so make sure you do with this release." (Geek-O-Rama)
"Fans of Zombie Tramp or the Danger Zone line should definitely be picking this book up and this is the PERFECT time for anyone who has not tried Zombie Tramp before to pick up an issue and see if you like it, I think you will if you give it a chance."
(World's Coolest Reviews)