Action Lab: Danger Zone in stores on 5/10/2017
|
ACTION LAB ENTERTAINMENT COMICS IN STORES THIS WEEK
New Releases for the week of

May 10th, 2017
AMERIKARATE #3
Writer(s): Brockton McKinney & Corey Kalman
Artist Name(s): Devin Roth
Cover Artist(s): Devin Roth (art) & Joey McCormick (cover color art)
Cover A – Main by Devin Roth (unlimited)
Cover B Bloodsports by Daniel Arruda Massa
(limited to 1500)
Cover C – 16 Bit by Dave Perillo (limited to 1500)
Cover D – Photo Cover: April O'Neil (limited to 1500)
Sam Kickwell is captured by the nefarious henchman Bloodbreaker! The evil dictator Neon gloats, certain he has imprisoned the only thing standing between himself and world domination! But Karate MasterForce Agent Cynthia Weaver has infiltrated the megalomaniacal tyrant's lair, and is prepared to kill her way to the top—with karate!
32 pgs./ M / FC                   $3.99 (AB), $4.99 (CDE)
What people are saying about AmeriKarate:
"If you're a fan of 80s cheese, gag a minute writing, and high energy action then you owe it to yourself to pick this issue up." (The Broken Infinite)
" It's a broad, crass and gloriously unsubtle love letter to 80s movie excess…"
(Big Comic Page)
"I didn't expect that it would be as fun as it was to read. If you are into 80's action films or 80's films overall, then you should definitely pick up Amerikarate #1." (Rogues Portal)

THE CIRCLE #5
Writer: Damon Clark
Artist Name(s): Alyzia Zherno
Cover Artist(s): Alyzia Zherno (Cover A), Damien Worm (Cover B)
Christian has taken down two and has three to go to break the circle. This is it, his last chance. If he can't finish the job, his soul will be damned forever.
32 pgs./ M / FC                   $3.99 (reg.), $4.99 (var.)
What people are saying about The Circle:
"This has been one of my favorite indie comic titles this year, so far." (The Pop Break)
"Clark writes a wonderful rollercoaster where the stakes continues to raise while still developing characters and making people care." (The Broken Infinite)
"If you're not reading The Circle, then my advice…do it." (Slack Jaw Punks)

INFINITE SEVEN #4
Writer(s): Dave Dwonch
Artist Name(s): Arturo Mesa (Pencils), Geraldo Filho (Colors)
Cover Artist(s): Arturo Mesa (Covers A, B, D), Axur Eneas (Cover C)
Lines have been drawn and war between the Infinite Seven and Chimera has been declared. The first arc in the hit series comes to an end, but one question remains: Who will draw FIRST BLOOD? This issue is chock full of revelations, and a shock ending that will leave readers reeling!
NOTE: Cover D, in addition to the variants from 1-3, completes the MASSIVE Infinite Seven Poster! 
32 pgs./ T+ / FC                   $3.99 (reg.), $4.99 (var.)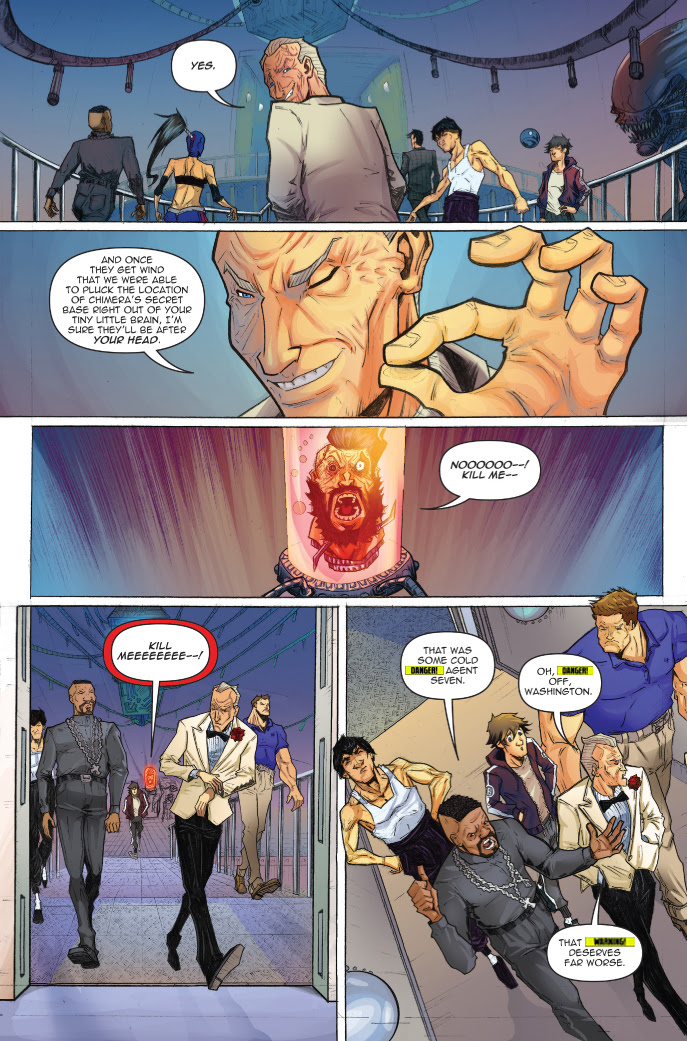 What people are saying about Infinite Seven:
"From concept to execution this book has all that it takes to be high on your list of books to be reading." (Reading with a Flight Ring)
"…it's a fun and fast-paced comic, and it promises an out-of-the-ordinary adventure. " (Chuck's Comic of the Day)
"A true page turner with an ending that leaves you wanting more."
(The Broken Infinite)

MEDISIN #1
Writer(s): Jeff Dyer and Mark McKeon
Artist Name(s): David Brame (Pencils), Joaquin Pereyra (Colors)
Cover Artist(s): David Brame (Covers A, B and C)
"First Do No Harm" Chapter 1
Health care for super villains! Criminal mastermind Malady has recruited a team of down on their luck physicians to provide medical aid for the world's worst bad guys. Led by the brilliant Ethan Sharp, the blackmailed doctors struggle to uphold their own ethical codes (or lack thereof) in violent and confusing battlefields. And when one doctor goes rogue, the rest learn a terrifying lesson from Malady.
32 pgs./ T+ / FC                   $3.99 (reg.), $4.99 (var.)