Action Lab Exclusive Covers at ECCC 2017
|
Action Lab Exclusive Covers at ECCC 2017
Stop by Action Lab's booth (1502) and pick up copies of some exclusive covers for DOLLFACE ST. PATRICK'S DAY SPECIAL 2017 and ZOMBIE TRAMP #32 at Emerald City Comic Con from March 2nd-March 5th. Meet the creators at the booth, including Bryan Seaton (DOLLFACE), Jason Martin (VAMPBLADE, ZOMBIE TRAMP) and Bill McKay (ZOMBIE TRAMP).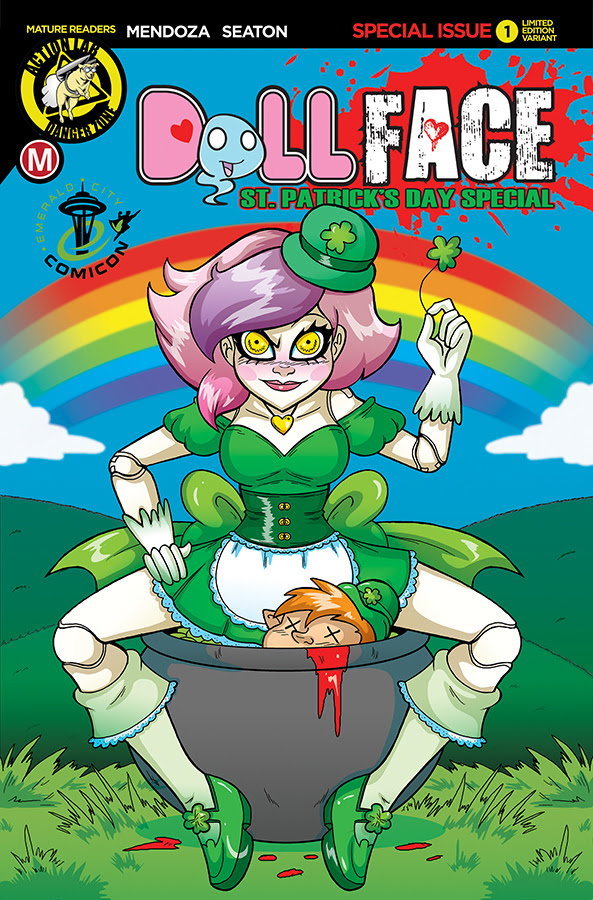 DOLLFACE ST. PATRICK'S DAY SPECIAL 2017
Cover Artist: Mary Bellamy
Lila's first St. Patrick's Day celebration at a local pub is quickly interrupted by a disgruntled leprechaun out for revenge.
32 pgs./ M / FC                   $20 (ECCC Exclusive)

ZOMBIE TRAMP #32
Cover Artist: Bill McKay
It's zombie witches vs monster truckers as Zombie Tramp's road saga comes to a furious conclusion! Also, Vampblade's along for the ride!!!
32 pgs./ M / FC                   $20 (ECCC Exclusive)
Some other Action Lab related booths you can check out at the convention include:
Shawn Pryor and Cash & Carrie: Book One Booth: O1
"Shawn Pryor is the creator of the popular mystery comic series Cash & Carrie, creator/co-writer of Motherless Creatures, writer of Kentucky Kaiju, and creator/writer/editor of the football series known as F.O.R.C.E. He is also one of the original founders of Action Lab Entertainment, serving as President from 2010 to 2014."
Steve Bryant & Mark Stegbauer Booth: O2
"Steve Bryant is the Eisner, Manning, and Harvey Award-nominated writer/artist of Athena Voltaire and the writer/co-creator of Ghoul Scouts, both published by Action Lab Entertainment. Mark Stegbauer is a 25+ year inker in the comic industry, with work for Marvel, DC, and Image. He is also the artist/co-creator of Ghoul Scouts from Action Lab."
Jamal Igle Booth: P3
"A recipient of the 2011 Inkpot Award for outstanding achievement in Comic Art, Jamal Igle is the writer/artist/Creator of Molly Danger for Action Lab Entertainment. The co-creator of "VENTURE" with Dynamo 5 creator/writer Jay Faerber and the artist of the series BLACK from Black Mask Studios, Jamal is comic industry veteran."
Nutmeg Comic Booth: P15
"Nutmeg is a coming-of-age culinary crime comic created by Jackie Crofts and James F. Wright and published by Action Lab Entertainment. This year marks our third ECCC and later this year will see the conclusion of Nutmeg. In addition to this book we have some more things in the works we're excited to share with you all!"
Dave Dwonch Booth: U4
"Dave Dwonch has been a comics writer and artist producing indie titles for over a decade. Recently he penned several titles, most notably Infinite Seven, Vamplets (with Gayle "My Little Pony" Middleton), and Cyrus Perkins and the Haunted Taxi Cab."