Action Lab: Danger Zone Books for 11/02/2016
|
NEW RATING SYSTEM:
E: Appropriate for everyone
A: Appropriate for ages 9 and up
T: For readers ages 12 and up
T+: For older teen readers and adults
M: Mature readers 18+

BLOOD+DUST: VOLUME 1
Writer(s):  Michael R. Martin & Adam Orndorf
Artist Name(s): Roy Allan Martinez
Cover Artist(s): Roy Allan Martinez
Co-Creators & Writers Michael R. Martin & Adam Orndorf give a fresh infusion of blood into the vampire genre with the Glenny Family. Brought to life by the illustrations of Roy Allan Martinez and colors of Raymund Lee, Blood & Dust pushes the boundaries of horror and explores dark places children shouldn't be allowed to go…especially the swamp.
96 pgs./ T+ / FC                   $11.99
What people are saying about Blood+Dust Volume 1:

"Vampire lover or not, this comic will appeal to adult readers who favor the mysterious and the macabre." (Geeks of Doom)

"Judd Glenny is a character capable of standing toe-to-toe with the legends of the vampire genre." (Horror Talk)

" Blood and Dust: The Life and Undeath of Judd Glenny #1 reads well as a solid opening to a story of horror, honor and love…. The art was superb, establishing great visual moody and body language to help making this book feel even more tense and moody." (The Broken Infinite)

ZOMBIE TRAMP #29
Writer(s): Jason Martin, Dan Mendoza
Artist Name(s): Marco Maccagni
Cover Artist(s): Marco Maccagni (cover A – regular, and B), Abraham Lopez (cover C and D), Dan Mendoza (cover E and F)
Cover B – Risqué (limited to 2500): Marco Maccagni
Cover C – Artist variant (limited to 2000): Abraham Lopez
Cover D – Artist risqué variant (limited to 2500): Abraham Lopez
Cover E – Election variant (limited to 2000): Dan Mendoza
Cover F – Election risqué variant (limited to 2500): Dan Mendoza
On the road again… everyone's favorite streetwalking dead hits the highway once more, but this time she's got friends. Who's along for the ride, and what's the destination? Hopefully it's not your town!!
Features a risqué variant, artist and artist risqué variant (Abraham Lopez), plus election variants.
32 pgs./ M / FC                   $3.99 (reg.), $4.99 (var.)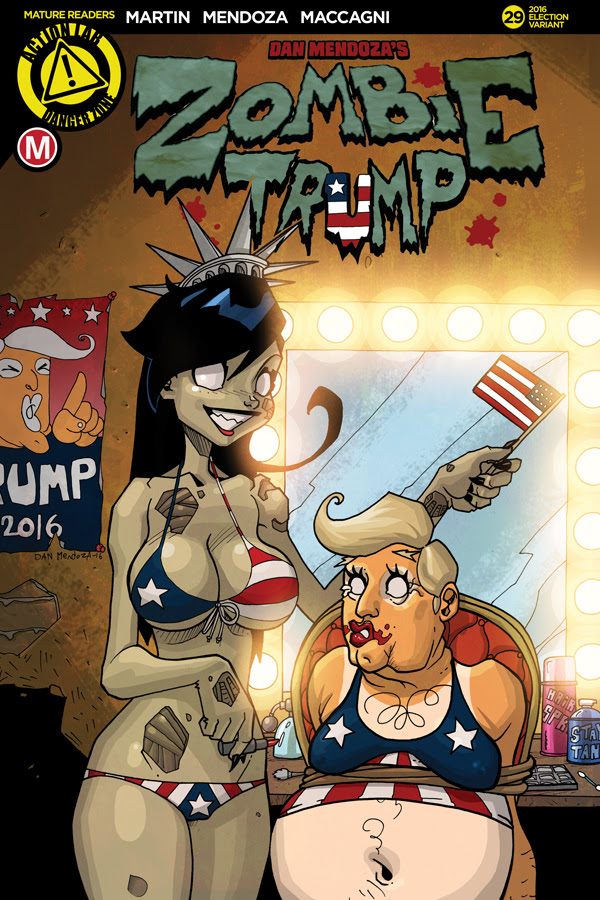 What people are saying about Zombie Tramp:

"The writing is raunchy and fearless…" (Comic Crusaders)

"Zombie Tramp #27, with all its variant covers in tow, is gory, offensive, sexually explicit, brutal and nasty. In short; it's wonderful! and in future years Zombie Tramp will be enshrined as a classic of its type. Get it whilst it's hot!" (Multiverse)

"The fact that Janey is able to transition from a story arc involving evil cheerleaders to one involving the most horrific experiences from her past (with a nice setup for a rendezvous with Xula) is a testament to Mendoza's range as a creator, and it is one of the reasons Zombie Tramp continues to be one of my favorite comics around."
(Unleash the Fanboy)
ABOUT

ACTION

LAB

ENTERTAINMENT

– Formed in 2010 with the purpose of pooling their collective talents into a single, powerful entity, the members of

Action

Lab

Entertainment

have countless years in multimedia publishing, design, and business.  Their first release, Fracture, was successfully funded through Kickstarter and since then they have continued their mission to produce high quality, genre-spanning

entertainment

.  Since its formation, the accolades for A.L.E continue to build on a daily basis.  Among its more popular titles are all ages material like the Eisner, Glyph, Shel Dorf Award nominated series PRINCELESS, MIRACULOUS (based on the Nickelodeon Television series), Jamal Igle's MOLLY DANGER, Artist/ Writer Katie Cook's GRONK and Gayle Middleton's (My Little Pony, The Littlest Pet Shop) monstrously adorable VAMPLETS. 

Action

Lab

's Mature Readers imprint

ACTION

LAB

DANGER ZONE continues to push the envelope of comics

entertainment

with titles as varied as Charles Band's PUPPET MASTER and Dan Mendoza's over the top horror-comedy ZOMBIE TRAMP, VAMPBLADE and ITTY BITTY BUNNIES IN RAINBOW PIXIE CANDY LAND, and socially relevant titles including SOUTHERN DOG, KINGDOM BUM and M Goodwin's TOMBOY.