Action Lab Entertainment's New Releases for the week of April 23rd, 2014
|
ACTION LAB ENTERTAINMENT COMICS IN STORES THIS WEEK
New Releases for the week of
April 23rd, 2014
(If links do not open when clicked, copy and paste them into your favorite web browser.)
FRACTURE VOL.2 #4 (of 4)
Writer(s): Shawn Gabborin
Artist Name(s): Chad Cicconi (p/i), Bill Blankenship (c)
Cover Artist(s): Chad Cicconi (p/i), Bill Blankenship (c) Steve Bryant
In this climactic last installment of the newest arc of FRACTURE, the city
of Triton is held hostage by the Society of Thorns and its minions, while Virtue fights
Jeff for control of their shared existence. An unexpected ally joins the battle with
disastrous consequences, leading to a final shocking twist.
Variant cover by Steve Bryant (Athena Voltaire)!
FC/ 32 pages / $2.99 standard /$3.99 Variant edition RATED PG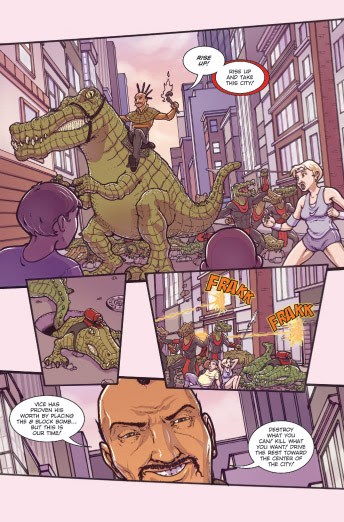 GHOST TOWN Vol.1 TPBWriter(s): Ryan Lindsay, Dave Dwonch
Artist Name(s): Daniel Logan, Justin Greenwood
Cover Artist(s): Justin Greenwood
The unthinkable has happened. In the wake of time displaced
terrorist attacks on Baltimore and Las Vegas, Washington DC has been
evacuated. With the government uprooted, the abandoned Capital has
become a refuge for bandits, smugglers, hardened criminals and those
who have chosen to stay behind in this pre-apocalyptic Ghost Town. Collects the four issue series' first arc.
FC/ 116pages / $11.99 MATURE READERS


JACK HAMMER #3 (of 4)
Writer(s): Brandon Barrows
Artist Name(s): Ionic
Cover Artist(s): Ionic
With the architect of Eddie Newman's death revealed, Jack goes on the offensive to
confront the mastermind pulling the strings of Boston's underworld and rescue Newman's kidnapped widow. He knows the who and the how, but the questions remain: why? And does he stand a chance?
Variant cover by Des Taylor (The Trouble with Katie Rogers)
FC/ 32 pages / $2.99 standard /$3.99 Variant edition ALL AGES

SKYWARD VOLUME 2: STRANGE CREATURES TPB
Writer(s): Jeremy Dale
Artist Name(s): Jeremy Dale
Cover Artist(s): Jeremy Dale
Jeremy Dale and Action Lab proudly present the second volume of the
runaway hit action-fantasy, Skyward! New, curious allies and strange, twisted enemies
emerge as Quinn runs headfirst into a conflict that's bigger than he ever dreamed
possible. Who will catch up to our young hero? Enter… The savage Rabites! Or will it
be Skerrigan who ends our hero's journey? Continuing the series that TMStash lauds as
"…Breathtaking. You won't be able to put this down!" Thrill to the fantastic storybook
adventure from Jeremy Dale (G.I. Joe, Marvel Kapow!), following the exciting tale of
Quinn and his dog, Jack– left orphaned by an invasion of his homeland. Collects
Skyward #4-6, as well as the critically-acclaimed Halloween Comicfest 2013 short story,
"Into the Grim."
FC/ 96 pages / $8.99 ALL AGES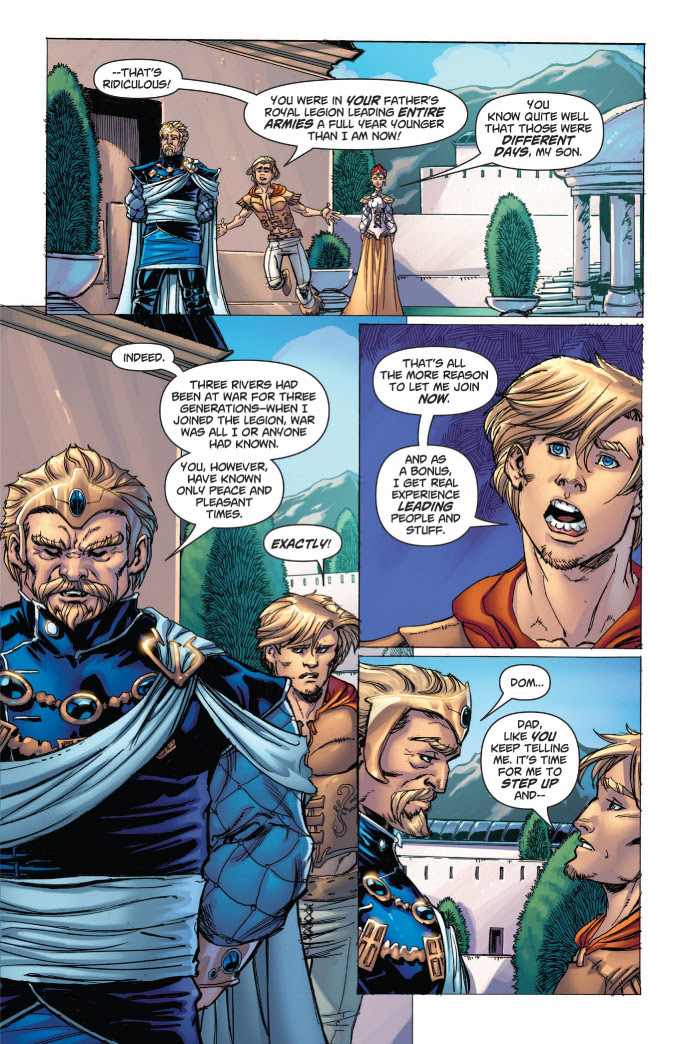 VAMPLETS: THE UNDEAD PET SOCIETY
Writer(s): Gayle Middleton and Dave Dwonch
Artist Name(s): Amada Coronado (p), David Dwonch (i) Bill Blankenship (c)
Cover Artist(s): Amanda Coronado (a), Bill Blankenship (c)
The Legend of the Ghost Pony begins here in this terrifyingly sweet installment from
Hasbro designer/illustrator of My Little Pony Gayle Middleton! Ghost Ponies have been the harbingers of the weird for years. Whenever they appear, creatures near have disappeared, never to return. Where do they come from? What is their terrible secret? And what is the Ghost Pony's connection to a vampyre baby named Lily Rose Shadowlyn? Find out in this all new adventure! Variant cover by Gayle Middleton herself.
FC/ 32 pages / $3.99 standard /$4.99 Variant edition ALL AGES